Main content
Dogs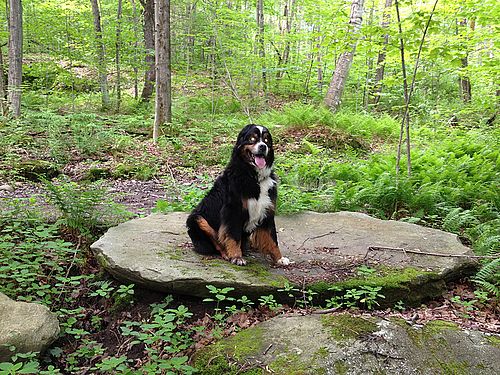 Canine companions are always welcome at Mills Riverside Park. Your pets must be leashed in all areas including the parking lot and the trails, except for our designated off-leash area where they may run free, play ball or Frisbee, and meet and greet other dogs to their heart's content. There is swimming and water-play in the Browns River, accessible from the off-leash area. Please check out our Trail Map if you are unfamiliar with the location of the off-leash area.
Do not leave bags of dog waste on the ground. The park offers three dispensers of doggie bags and waste receptacles for the easy clean up of dog waste.
Our off-leash area is not a dog park. It encompasses acres of unfenced open land. The Browns River serves as one boundary and steep, forested terrain as another. Signs indicate when you have reached and are leaving the off leash area. This area is enjoyed by many others throughout the seasons for walking, biking, snowshoeing, cross country skiing, horseback riding and more. Control of your dog is important for the safety and well being of all park visitors. Owners are strictly liable for their pet's behavior. Dogs must remain on park property too and not bother neighboring farm animals.